EN TOURNÉE:  29/11/17,17h00, UGB of St Louis; 2/12/17,21h, Alliance Française Ziguinchor; 6/12/17, 18h00 l'Alliance Française Kaolack; 16/12/17, 20h30, l'Institut Français Dakar; 13/12/17,16h00 University of Thiès, 7/12/17 'Festival Rythmes et Formes du Monde' ,Touba Dialaw.
June, 2017. Performance freely adapted from 'Der Jasager, Der Neinsager' by Bertolt Brecht.
It is the story of a child leaving for a dangerous expedition. It is the story of his mother, who, all her life, undergoes the law of men. It is the story of men and women who would like to get along and agree with each other to finally live together. It is the story of tensions between traditions, modernity and globalization.  How can we agree within a group while being in agreement with ourselves? Should we always obey the laws and customs of a society? Or do we have to constantly question them? Based on Brecht's two short texts, the author takes her actors and characters created by the German playwright on a journey, not without humor and with a certain sense of absurdity, in which youth will have a say, (or not).
Writing and Directing :  Berengere Brooks.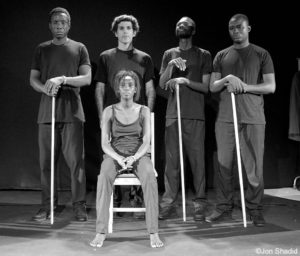 With :
Sadibou Manga
Djibril Dansokho
Renaud Farah
Leya Kane
Ass Niang
Production : Goethe Institut in partnership with the Rosa Luxemburg Foundation and Brrr Production
Teaser